The Crash Test Dummies are characters who feature in
The Wizzo
comic.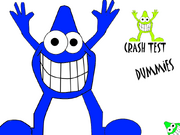 The Crash Test Dummies were created by artist Kieren Gillespie, Kieren and Reaven Hackett worked together, coming up with ideas for them. The basic idea of the Crash Test Dummies is that they're always in danger or getting hurt (hence the name). Kieren was hired thanks to his work with the Crash Test Dummies and has created numerous, funny sketches about them. The Dummies are first introduced in Issue 2, although not mentioned. They appear down the side of the Blong story, on Page 1. It's basically a Green Dummy diving off one of the boxes into a bowl of water, while an Orange Dummy is drinking the water out of the bowl with a straw. This strip is drawn by Harry Rickard, before he knew what the Crash Test Dummies properly looked like. As it is not named, readers would not have known it was a Dummies strip. The first proper Comic strip happened in the following issue, this time drawn by the regular artist Kieren Gillespie, named Sing your Heart Out.
Characters
Edit
There are different types of Crash Test Dummies, here are the main ones,
Archie, (red), he's the main character .
Mick and Mike, (yellow), they're twins, but which one's which?
Deadly Don , (green), he's the war sargeant.
Specks, (blue), he's the clever one.
Clumsy, (pink), he's the clumsy one.
Note: These are not the only crash test dummies, rather the only ones with known names. The Crash Test Dummies have their own town.