Tornado Tommy is a character in The Wizzo Comic, he makes his debute in Issue 3.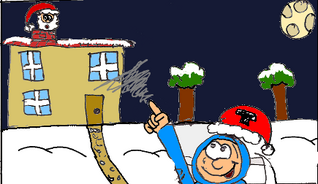 Introduction
Edit
Tommy is an ordinary lad, well, he would be if it wasn't for his magical tornado powers. Tommy uses his unique powers sometimes for good and sometimes for menacing the public! Tommy's worst enemy is Boring Bill, he wears all grey and will try anything to get Tommy to stop using his powers, however Tommy usually gets the last laugh. In the Wizzo Christmas Special, Tommy helps Santa when he gets stuck up the chimney.
Artists and Writers
Edit
Tornado Tommy is drawn and written by Jonathan Barham, however Harry Rickard wrote the script for the Christmas Special.
If it wasn't for Jonathan joining devaintART, Tommy would of never featured in the Wizzo.
Tommy's facial features include lots of swirly lines, these are made to look like a tornado.
Tommy usually wears a blue hat with a 'T' on it, but in the Christmas Special, he wears a Christmas Hat with a 'T' on it instead.
Harry Rickard colours in all of the Tornado Tommy comic strips.